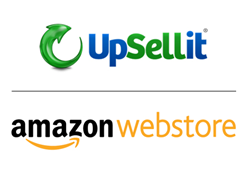 Westlake Village, CA (PRWEB) September 16, 2014
UpSellit, Inc., an industry leader in site abandonment solutions, has become an Amazon Webstore Solution Provider, and will work with merchants using the Amazon Webstore platform to increase profitability.
UpSellit analyzes shopper behavior to develop targeted remarketing campaigns that recover otherwise lost conversions. With a suite of lead generation, email remarketing, automated chat and promotional technologies, UpSellit provides Amazon Webstore merchants with solutions that recover revenue on a pay-for-performance pricing model.
"Amazon consistently raises the bar for the online shopping experience. The Amazon Webstore is an excellent way for retailers to easily provide this industry-leading experience," said Jeremy Aaronson, VP of Sales and Marketing. "UpSellit's new relationship allows Amazon Webstore sellers to quickly implement customer recovery campaigns and track their increased conversions."
UpSellit's solutions help increase conversions by addressing the reasons for site abandonment. As a shopper advances through the purchase process, the reasons for abandonment change, making a dynamic and targeted campaign crucial to success. UpSellit offers merchants a full-service solution that aligns with customers' evolving purchase behavior, and delivering custom engagements that increase conversions.
UpSellit has recovered millions of online transactions and generated new revenue for a wide range of online advertisers. As a Solution Provider for Amazon Webstore, thousands of businesses will now be able to leverage UpSellit's expertise and reduce site abandonment.
###

About UpSellit:

UpSellit provides online businesses with pay-for-performance site abandonment solutions. UpSellit increases conversions with customized email, automated chat and promotional technologies that address specific concerns to recover abandoned consumers. Every campaign is a full-service solution with ongoing optimization and support at no additional charge. For more information on UpSellit's customer recovery strategies, call 1 (866) 504-9619 or write us at info(at)upsellit(dot)com.