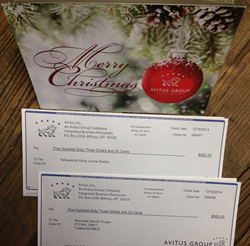 Billings, MT (PRWEB) December 17, 2014
Avitus Group's annual "Jeans for Charity" fundraiser raised $ 1126 this year for two non-profit organizations, the Wounded Warrior Project and the Yellowstone Valley Animal Shelter in Billings, Montana. Avitus Group employees donated money throughout the year in order to wear jeans to work on designated "Jeans Charity Fridays" and then voted on their top two non-profit choices for donations. Dress code at Avitus Group is business attire and jeans are not typically allowed. "Employee programs like this help motivate employees to have a positive work environment while helping organizations in our community," says Anne Jensen, Avitus Group Director of Talent Acquisitions.
The mission of the Wounded Warrior Project is to honor and empower Wounded Warriors and to foster the most successful, well-adjusted generation of wounded service members in our nation's history.
The mission of the Yellowstone Valley Animal Shelter is to provide shelter for animals in transition, serve as advocates for animals and their people and be a leader in enhancing the human-animal bond.
"Our company leads by example. We're able to give back to the communities we're in and we like to encourage our staff to do the same. Employee involvement and getting to wear jeans to work on occasion while helping out non-profit organizations is a win for everyone," says Dianne Parker, Avitus Group Public Relations Manager. This past year, Avitus Group has participated in numerous giving campaigns including a partnership with Montana State University Billings, involvement with the U.S. Marine Corps Reserve's Toys for Tots program, the Roaddogs Toy Drive for the Salvation Army, an IT donation of Google Chromebooks to a non-profit school, Relay for Life, the Big Sky Honor Flight program, the Chase Hawks Memorial, a partnership that highlights community through communication with Community 7 Television, the St. Vincent Healthcare Saints Ball, the Pink Tie Affair for the Ramsey Keller Memorial and the Rocky Mountain College Community fund and Black Tie Blue Jeans event for student scholarships.
Avitus Group is a worldwide company, based out of Billings, Montana. Avitus Group helps other companies with administrative hassles. When businesses use Avitus Group, all of the necessary, yet burdensome functions of the business become Avitus Group's responsibility, so the business can focus on what they do best, grow and increase profits. Avitus Group serves clients nationwide through 10 regional office locations from California to Florida. The company also serves international clients through partner locations in Europe, Canada, China, England, India, Japan and Singapore.