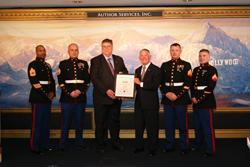 Philadelphia, PA (PRWEB) December 16, 2014
Mr. Rhodes Wilson principal of A. Rhodes Wilson & Associates, Inc. of Doylestown has become a driving force in the community providing a happier Christmas—an extremely significant issue this upcoming holiday season.
At a gala event Saturday night attended by Wilson at Galaxy Press, in Hollywood, CA, where Lt. General Pete Osman USMC (Ret) President & CEO of the US Marine Corps Reserves Toys for Tots program was the keynote speaker talking about the need for books for youth, specifically as a solution to illiteracy and ultimately the other social ills of crime and violence attendant to illiteracy. Osman stated, "I genuinely believe, and I know that you do as well, if we could address the literacy problem, that's the best way to break the cycle of poverty that these youngsters live in—that's the key." The General thanked Wilson and presented him a special recognition for his generous contribution of the Stories from the Golden Age, stories written by L. Ron Hubbard in the 1930s and '40s and which give the message of hope and doing the right thing, a message very crucial at this time of year.
Accepting his recognition, Wilson stated, "Education is the key to breaking the cycle of poverty. Reading is the key to education. Through the Marine Corps Reserve Toys for Tots Literacy Program I am helping to place books in the hands of our nation's most economically disadvantaged children giving them the ability to compete academically and ultimately to succeed in life."
In a report from Kids Count Data Center, 14.7% of all children up to 17 years of age in Pennsylvania live below the poverty level. That is nearly 1 in 7 kids. In addition of his own personal contribution of 7,000 books to the Toys for Tots program in Pennsylvania, he is urging other business leaders to likewise take part in this very worthwhile charity program.
Wilson observed, "To be able to participate tonight with the other Commander's Award recipients from around the country is a great honor. Through our combined efforts, we are giving the gift of reading to up to six million children. This is a great start in opening up a new world of opportunity for them."
The Marine Toys for Tots Foundation is an IRS recognized 501(c)(3) not-for-profit public charity and has as its mission to assist the U. S. Marine Corps in providing a tangible sign of hope to economically disadvantaged children at Christmas.
For more information on how you can participate in this program, contact Rhodes Wilson at (215) 766-8500.