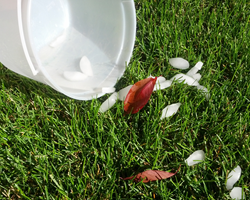 Calgary, AB (PRWEB) September 11, 2014
The ALS Society has been a hot topic in the news and on social media sites lately, thanks to their brilliant ALS Ice Bucket Challenge. But now that the ice is melting (so to speak), people can continue to show their support year-round by using an innovative website that pairs online shopping with automatic donations to Canadian non-profits, ShopandShare.ca. And as luck would have it, ShopandShare.ca has selected the ALS Society of Alberta as its 'Featured Non-Profit' for September.
The 'Featured Non-Profit' designation allows ALSAB supporters and other ShopandShare.ca users to channel a percentage of the money they spend online at hundreds of popular retailers and travel sites directly to the Society. There are no additional fees, mark-ups, or out-of-pocket donations required.
Thanks to ShopandShare.ca's user-friendly desktop and mobile websites, ALS Society supporters simply create a free account, then follow the links to their favourite online stores and travel sites. A percentage of the money they spend is automatically allocated to their chosen non-profit. Purchases made, as well as the automatic donations generated by their purchases, can also be verified via online reports to ensure the donations are being processed properly.
For the ALSAB, the extra exposure and donations from being a 'Featured Non-Profit of the Month' allows them to offer more services to people living with and affected by ALS (Amyotrophic Lateral Sclerosis – also known as Lou Gehrig's disease).
About ShopandShare.ca: Our mission is to help local Canadian charities and non-profit organizations raise much-needed capital, without all the hassles of traditional fundraising. The user-friendly website allows consumers across Canada to generate automatic donations for whichever charity or non-profit organization group they choose, each time they make an online purchase.